Thermostats are the interface between your heating, cooling and air cleaning equipment and you the user. Thermostats can be simple device you turn up and down or more advance smart system that can be programmed, remote controlled or part of a home system. Most heating and air conditioning manufactures have their own line of thermostats, and some are needed to allow full function of their equipment.  We have found that type of system to be problematic for several reasons. The two big problems they expensive to buy and replace and over complicated to operate.
Although there are many good thermostats on the market today, no one makes the variety and has more experience than Honeywell. They have a system for every application from basic to smart thermostats and everything in between. Following are some of the thermostats we stock and recommend.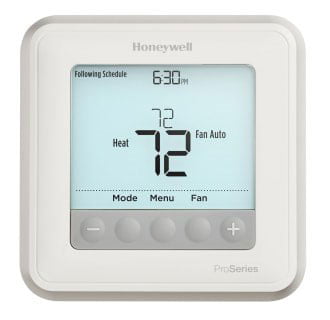 Key features
This is a programmable thermostat, that can be programed to be manual, turn up, down or off, program for 5-1-1 Monday through Friday and separate Saturday and Sunday, 5-2 Monday through Friday and Saturday and Sunday the same, of 7 days all different. This system is powered by the furnace with a battery backup. Batteries are 2 AA, last about 2 years, and are easy to change. The thermostat has fan switch for auto and on and system switching for heat, off or cooling. This is the standard thermostat we install with most systems.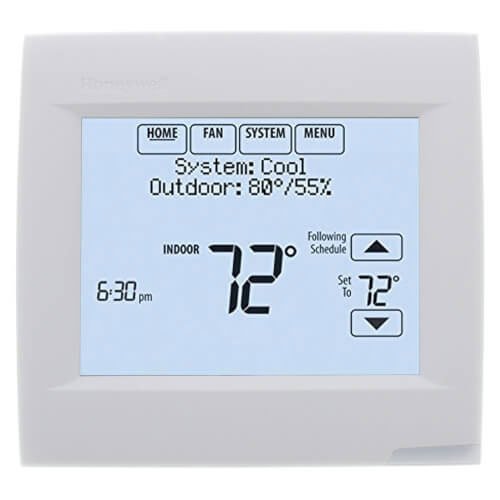 Honeywell Vision Pro 8000
These touch screen programable thermostat comes in several versions that can allow for hard wired, wireless operation, and remote access. They can be operated manually of have 5-1-1, 5-2 or 7 days of programming.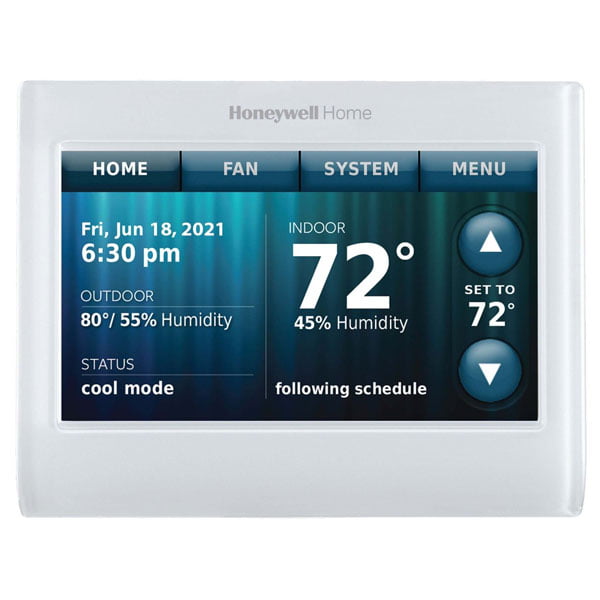 Honeywell Vision Pro 9000
These are touch screen, Wi-Fi smart thermostats. Designed to be used with remote access or not. The color touch screen can be personalized. It offers the same as other for programming plus the fan can be programmed with out heating or cooling for air cleaning when needed.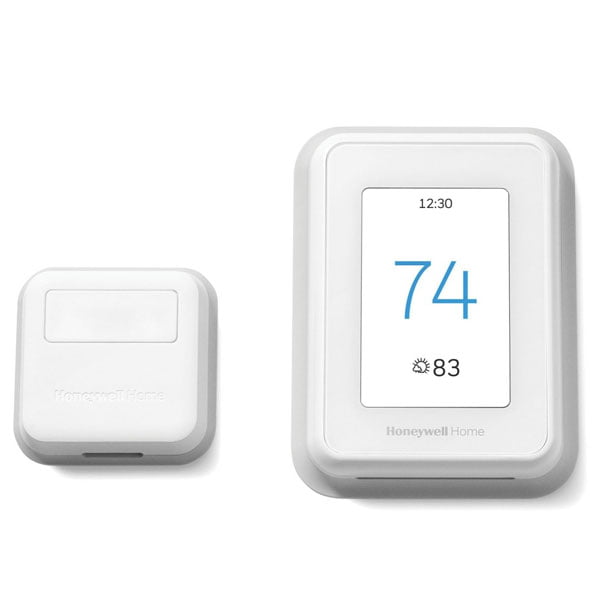 Honeywell T9 with Smart Room Sensor
Key features
This touch screen smart thermostat can be used with Alexa, Google Assistant and has a smart sensor to allow remote mounting, sensing, and people detection. Programmable 5-1, 5-2 or 7 days and can be geofenced. The vertical shape can cover the holes other thermostats can't.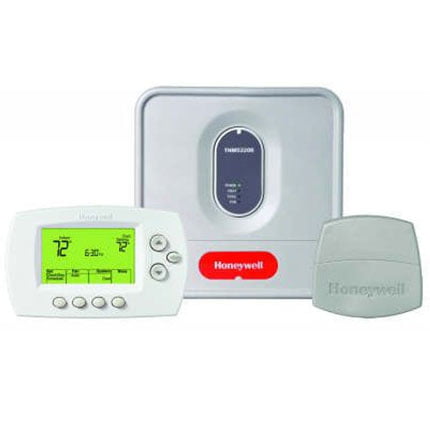 Honeywell Wireless Thermostat Kit
Key Features
Allows for wireless installation when running wires is just not practical. It is 5-1-1, 5-2 or 7 day programmable and battery operated, 2 AA. They are easy to replace without removing the thermostat from wall. This thermostat is ideal for use for zoning and can have remote access when the Honeywell RedLink Internet Gateway is installed.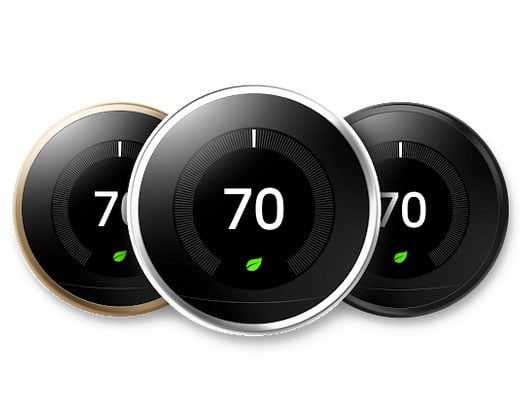 The key feature of the Nest thermostats is its cool factor. Initially designed by former Apple employees, it has the look and feel of Apple products. Consumers either love or hate them. One big problem with Nest is the lack of support. They are being sold at big box retailers to consumers who don't know what they are getting into. Nest thermostats need a "C" wire to allow enough power to operate the WI-FI. If running wires is not practical there are problems. Other smart thermostats also need the "C wire but because they are sold by professional installers they know if you have the wiring needed. Honeywell has their wireless thermostat and internet gateway that is one good solution. Beside the lack of support the even bigger problem with Nest is the battery replacement. The thermostat not only needs to be removed from the wall but needs to be disassembled to access the battery compartment. Then you need the special Lithium Ion "Nest" battery. The thermostats program will most likely be lost. Many customers will end up just buying a new thermostat hence the hate factor. The batteries will likely last for 7 years before the replacement problem become apparent.
We sell products that are easy to service, and we can support. If you must have a Nest, Ecobee or other brand of thermostat we are happy to install as long as you agree we are not responsible for any third-party thermostat problems.

What is a heating and cooling zone system? A zone system allows for residence or commercial space to be heated or cooled in just the area needed. In a typical two-story home with the bedrooms upstairs and living space downstairs, the downstairs may need heat when the upstairs does not. Zoning allows that to happen. If there is air conditioning the upstairs may need cooling and the downstairs does not, zoning allows that to happen. Forced air furnaces that are modulating, like the York YP9C, are designed for zoning and have special set ups. We typically install one furnace with two or three zones, when zoning is needed. Mitsubishi or Samsung Ductless and Ducted systems can an also have Zones. One outdoor multi-zone heat pump can handle up to 8 indoor zones.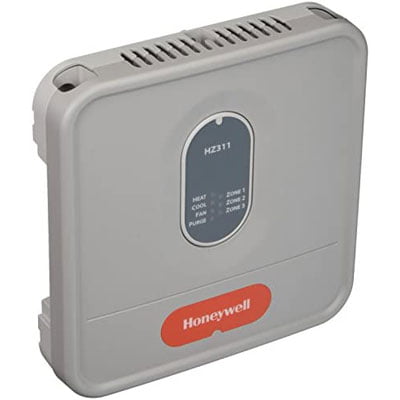 Honeywell "TrueZone" system
Key Features
Available in two, three or four zone controllers. Round and rectangle motorized dampers available. Can be used with gas furnaces, air conditioning, heat pumps and hybrid heat systems with one, two, and three stages. DAT sensors keep equipment from overheating and freezing up. Compatible with RedLink wireless systems. We have installed hundreds of Honeywell TrueZone systems and know what works best together. We stock the common zoning components.
Zoning is also possible with combination of Mitsubishi Ductless Systems.